Health
Information to help military veterans protect themselves and make health a priority. Family Violence, Prevention and Care, Healthy Living, Managing Stress, Wounded Warrior
Information to help military veterans protect themselves and make health a priority. Family Violence, Prevention and Care, Healthy Living, Managing Stress, Wounded Warrior
If you would like to recommend an organization or additional resource to be listed here please contact us.
HeadInjury.com provides brain injury information, education and support to foster self-advocacy and self-care in partnership with families, doctors, rehabilitation facilities and lawyers. Phone: (206)621-8558
The Brain Injury Association provides information on brain injury, research, conferences, publications, prevention and education, survivors' voice, assistive technologies, and information and referral. Phone: (800) 444-6443
GET FREE VA CLAIMS ASSISTANCE
If you've been diagnosed with mesothelioma, you're entitled to benefits and compensation from the VA. This compensation can pay for your treatment and improve your quality of life. Our free Veterans Guide will help you navigate the VA claims process and get the benefits you deserve.
Military sexual trauma (MST) is the term that the Department of Veterans Affairs uses to refer to sexual assault or repeated, threateningsexual harassment that occurred while the Veteran was in themilitary.
Disability often brings to mind wheelchairs and amputees on crutches. The scope of disability has changed throughout the years and so has the mindset on what constitutes a disabled person. Federal disability discrimination law states that disability is defined as a mental or physical affliction that to a large extent hinders at least one or even more of an individual's important life actions. Impacted life activities can include self-care, learning, moving, and the basic activities of daily life, which include cooking to keeping your home clean. The terms that once defined disability have changed as well. Mental retardation is no longer a mainstream term, intellectual disability has long replaced it. People are less likely to be pigeon-holed into a category as the world awakened to what's possible, not impossible for a person "differently-abled." There is no physically disability that needs to set a person back, those veterans who have lost a limb, a child born with a physical birth defect such as a shortened arm, to diseases such as multiple sclerosis and muscular dystrophy, don't need to curtail activity or social life. Many disabled people used to live in institutions, now the amount of resources available to live a quality life are abundant; and most people living with an impairment can either live on their own or with support from family, friends, private, public or government programs.
While not specifically targeting veterans and their families, the Well Spouse Association provides help for veterans and families of veterans by providing support for spousal caregivers.
Spousal
Caregiving
Are you a husband, wife or partner looking after a spouse or partner with chronic illness and/or long-term disability?

Do you feel alone in your spousal caregiving?

Do you feel no one really gets what you are going through?

Or do you know someone else who fits this description?

If so, you (or that person) are a spousal caregiver, and the WSA's twin mottos: "You Are Not Alone" and "When One is Sick... Two Need Help" say it all!
Well Spouse® Association Members find support, sharing and a social community
My HealtheVet is VA's online personal health record. It was designed for Veterans, active duty Servicemembers, their dependents and caregivers. My HealtheVet helps you partner with your health care team. It provides you opportunities and tools to make informed decisions and manage your health care.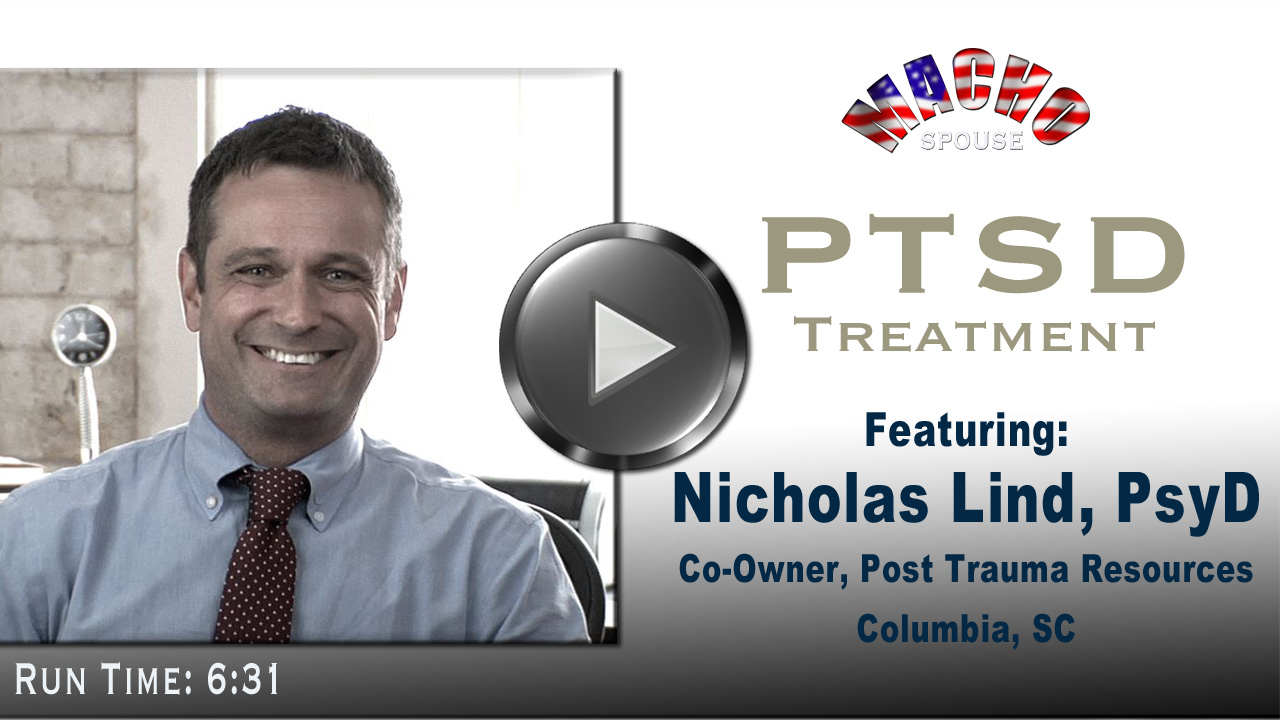 Macho Spouse PTSD Video Series: Post Traumatic Stress Disorder - Treatment
Our friends over at Macho Spouse - the male military spouse online community - have posted the fourth video in their Post Traumatic Stress Disorder (PTSD) series. In this video on Post Traumatic Stress Disorder (PTSD) treatment, Dr. Nicholas Lind, Co-Owner of Post Trauma Resources (Columbia, SC), shares his philosophy behind what makes PTSD treatments effective and what programs Post Trauma Resources uses to help those suffering from PTSD control their symptoms.
Complicated grief is a debilitating condition that has been under-recognized by the mental health profession.
Our Complicated Grief Treatment Program focuses on finding treatments that can help people with complicated grief, and on teaching professionals to recognize and treat this condition. Our goals are:
To improve the lives of people suffering from complicated grief; and
To find the best ways to disseminate and implement complicated grief research and treatment information
The undisputed "experts" at living a fulfilling life with a brain injury are those who "have been there done that."
The purpose of this site is to connect the survivors, their family, friends and caregivers who" have been there done that" to those looking for answers to accomplish the same.
Every brain injury is unique, however, everyone's roadmap has the same elements
Learn how others have traveled their journey and build your unique roadmap.