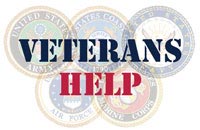 Help Hotlines
We grabbed the useful telephone numbers and links to other websites so you can access them here whenever the VA Website is down for maintenance. (Please note: These phone numbers and links are present on the VA website even when the website is down for maintenance. However, it may be difficult to find what you need because the information on the website does not appear in the normal format.)
Veterans Crisis Line - 800-273-8255 and Press 1
More important numbers and website links below...
The Veterans Crisis Line provides help for veterans and their families by connecting Veterans in crisis and their families and friends with qualified, caring Department of Veterans Affairs responders through a confidential toll-free hotline, online chat, or text.
call 1-800-273-8255 and Press 1
Homeless Veteran in need of help? Call 1-877-4AID VET (1-877-424-3838)
The Department of Veterans Affairs' (VA) has founded a National Call Center for Homeless Veterans hotline to ensure that homeless Veterans or Veterans at-risk for homelessness have free, 24/7 access to trained counselors.
VA's Suicide Hot Line Begins Operations
July 30, 2007
Nicholson: "Help a Phone Call Away"
WASHINGTON – To ensure veterans with emotional crises have round-the-clock access to trained professionals, the Department of Veterans Affairs (VA) has begun operation of a national suicide prevention hot line for veterans.
"Veterans need to know these VA professionals are literally a phone call away," said Secretary of Veterans Affairs Jim Nicholson. "All service members who experience the stresses of combat can have wounds on their minds as well as their bodies. Veterans should see mental health services as another benefit they have earned, which the men and women of VA are honored to provide."
The toll-free hot line number is 1-800-273-TALK (8255). VA's hot line will be staffed by mental health professionals inCanandaigua, N.Y. They will take toll-free calls from across the country and work closely with local VA mental health providers to help callers.
Read more: http://www1.va.gov/opa/pressrel/pressrelease.cfm?id=1363