Employment
Veterans Info Site provides information to help reach transitioning military and veterans their family members become hired in the civilian work force in all disciplines. Providing Information for military veterans and their families on all things career and education-related. Higher Education for Veterans, Pre-K - 12 Education, Higher Education for Children, Spouse Education, Career Opportunities
Veterans Info Site provides information to help reach transitioning military and veterans their family members become hired in the civilian work force in all disciplines. Providing Information for military veterans and their families on all things career and education-related. Higher Education for Veterans, Pre-K - 12 Education, Higher Education for Children, Spouse Education, Career Opportunities
Hiring Our Heroes has hosted more than 220 hiring fairs in 48 states, Puerto Rico, and the District of Columbia; more than 10,400 have gotten jobs.
Some educational institutions may make additional funds available through the Yellow Ribbon Program without an additional charge to your GI Bill entitlement.
Find jobs with military-friendly companies looking for employees with your skills and experience.
This is a Department of Defense Yellow Ribbon program that allows employers to post all their jobs at no cost. H2H is the lead sponsor in several Milicruit virtual career fairs, and also co-sponsors some of the U.S. Chamber Hiring Our Heroes career fairs.
VA for Vets facilitates the reintegration, retention and hiring of Veteran employees at the Department of Veterans Affairs (VA). We offer career-search tools for Veterans seeking employment at VA, career development services for our existing Veterans, and coaching and reintegration support for military service members. VA for Vets is your gateway to a rewarding career serving our nation's Veterans.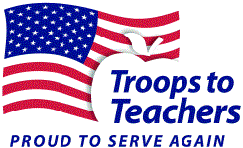 Troops to Teachers is a U.S. Department of Education and Department of Defense program that helps eligible military personnel begin a new career as teachers in public schools where their skills, knowledge and experience are most needed.
My Next Move for Veterans is created for the U.S. Department of Labor, Employment & Training Administration, by the National Center for O*NET Development. My Next Move for Veterans helps U.S. veterans find jobs by providing a usefuk set of tools and information to match tasks, skills, salary information and job listings that can ultimately result in veterans hired in the civilian work force.
VA is committed to hiring Veterans. If you are transitioning from the military, a Veteran already, or an active Reserve or National Guard member, we invite you to explore the benefits of continuing your career at VA.
MilitaryVetJobs.com respects the men and women of the military and the service they've provided to our country.
MIlitaryVetJobs.com, a veteran owned organization, offers veteran job seekers a community of support and connections to employers seeking qualified, veteran candidates.