---
Like, Comment, Share
Obama Administration Delays Plan to Close Guantanamo While Searching for Domestic Alternative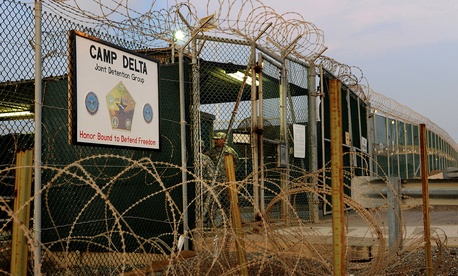 Image: – – Veterans Info Site
As weeks slip away, Pentagon officials say they're only on step one' of a crucial survey of alternate locations for the detainees.
 
The White House plan to close the military prison in Guantanamo Bay — once described by the administration as imminent — now looks like it's not coming anytime soon.
A survey meant to determine which U.S. military or civilian prisons might receive the war-on-terror detainees is only at "step one," according to a senior Pentagon official, who offered fresh details about the weeks-old assessment effort.
A White House official, speaking on background because the drafting is ongoing, said, "We've been diligently working on a plan to close Guantanamo. The site surveys conducted by the Defense Department are a key component of the plan."
Six weeks ago, the administration said it was in the "final stages" of drafting the plan, which is a crucial part of a potential deal with Congress to close the detention facility. Some reports indicated the White House could send the plan to Capitol Hill as soon as this week.
Now, the official said, "We want to ensure our plan to safely and responsibly close Guantanamo has all bases covered. We don't have a timeline on when the plan will be delivered to Congress."
But the delay over the survey will complicate the already-difficult negotiations over Guantanamo as Congress returns this week to hammer out the annual defense authorization bill.
---
Share on social media
Veterans Info Site uses AddThis share buttons so you can easily share your favorite content from this site to your Facebook, Twitter, and more.
To share this on social media, click on the share icons. You will be prompted to connect your social media account if you have not already.
Thank you for sharing!
---
Comments