Troops to Teachers is a U.S. Department of Education and Department of Defense program that helps eligible military personnel begin a new career as teachers in public schools where their skills, knowledge and experience are most needed.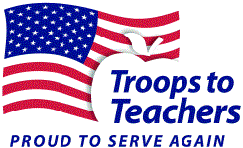 Image for Troops To Teachers –
Troops to Teachers (TTT) was established in 1994 as a Department of Defense program. The National Defense Authorization Act for FY 2000 transferred the responsibility for program oversight and funding to the U.S. Department of Education but continued operation by the Department of Defense.
The No Child Left Behind Act of 2001 provides for the continuation of the TTT Program.
TTT is managed by the Defense Activity for Non-Traditional Education Support (DANTES), Pensacola, Florida.